The 1989 Jewelers of America Fall International Jewelry Show, held July 22-26 at the Jacob K. Javits Convention Center in New York, drew mixed reactions. Some observers felt traffic was slower than last year, although JA reports 20,149 buyers registered, up from 20,096. Total registration, including buyers, exhibitors, agency and press people, was 29,205, up from 28,935. Body counts aside, it was a good show – though some firms, of course, outperformed others. Diamond merchants in general said they did better than expected considering the slow market before the show. Designers featuring fresh, new looks or high-end, stylish merchandise were ecstatic; those with standard bread-and-butter fare were much less enthusiastic.
"We're making it wildly," said Nancy Lovendahl of Scott Keating Designs. Patrick Murphy of Murphy Designs called this the best show he's ever had. Both firms specialize in high design. Aurion International's Allen Balik said the firm's higher priced line of merchandise was moving well.
"Business was pretty good, but there's still a fair amount of caution," said Ken Fogel, sales manager of New York-based Merit Diamonds, which generally produces mass market-line jewelry. Another mass market manufacturer said that his customers were buying, but hedging – buying smaller quantities more frequently and waiting to see how things move. There were surprisingly few complaints about the rise in diamond prices; the corresponding drop in gold helped to offset it as many firms turned to creating pieces with a bolder, more-gold-than-diamond look.
Overall, it seemed as though buyers at JA sought the exciting, unusual and high-quality. That's not to say they've dropped bread-and-butter, but it did appear as though they're not interested in buying it at the show. In the diamond and colored stone bourse, those with unusual or fine stones did much better than those with average wares.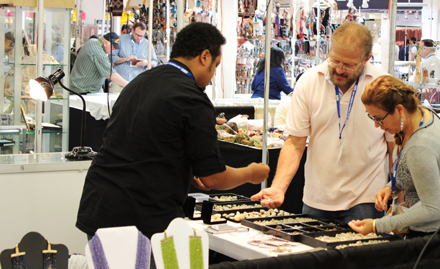 Business was brisk in the watch and clock segment of the show, though a bit less impressive than last year. Fewer small jewelers were apparent here. The search for quality was evident once again, as the busiest watch vendors seemed to be those with high-priced or innovative citizens watches and lines that guarantee a sizable profit through careful distribution.
"Moderate success, moderate traffic," was how one large watch vendor summed up his show, and scores of watch company execs contacted by JC-K agreed. Although not a blockbuster, JA '89 still made a nice profit for these firms.
On the education front, the Gemological Institute of America's GemFest East, held at Javits on the show's opening day, drew a good crowd to a varied lineup of lectures. JA offered an economic outlook plus updates on industry issues as its traditional Sunday morning convention program. Then Jewelers' Circular-Keystone and National Jeweler magazines each moderated a series of free seminars on Monday and Tuesday, respectively. JC-K's October issue will offer highlights of these sessions.
A group of five leading industry groups (JA, the Manufacturing Jewelers and Silversmiths of America, the Jewelers' Vigilance Committee, GIA and the World Gold Council) outlined preliminary plans for a program to stamp out the sale of underkarated gold. It's called the Precious Metals Quality Assurance Program and will involve random sampling of merchandise, education, cooperation with U.S. Customs and, eventually, a gold assaying office at GIA's Santa Monica headquarters.
In other news, a new slate of officers and directors was elected during JA's annual meeting; the JA New Design and New Designer were chosen; and display award winners were announced.
JA DESIGNERS TURN ON THE WHITE HEAT
Designers and manufacturers exhibiting at Jewelers of America's recent New York show turned up the white heat with platinum, diamonds and white gold variations worth dubbing The Great White Way.
Platinum was the white stuff most talked about  –  thanks, in part, to the New Platinum Age spectacle staged on Monday night by the Italian Jewelry Guild and Platinum Guild International Italia. The fashion/stage event drew more than 2,500 people to Javits' special events hall for nearly an hour of music, jewelry and fashion attitude.
More American designers have added platinum pieces this year than ever before. They say the high-end customer's resistance is almost nil. Krementz Co. showed an extensive line of jewelry that uses platinum as a design element; Michael Bondanza has been creating platinum masterpieces for years. Whitney Boin, Thomas Michaels and the design team at Ambar Diamonds all are inspired by platinum, as well.
When the white stuff isn't platinum, white gold will do. Many vendors showed interesting mixes of white and yellow golds, most often with one metal matte and one highly polished. One of the best white gold treatments comes from Scott Keating Designs where the popular Summit collection now has sandblasted barrels of white gold in place of gemstones. It's the non-stone stone look.
The reflection of diamonds offers the other white light. The stone isn't new, but these design inspirations definitely are. Invisibly-set diamonds are a fantastic way to experience the look of pure ice on the hand. Nova Stylings' Martin Gruber has created some of the most innovative, diamond-intensive masterpieces, but it's his invisibly-set diamond band, three rows wide, that flames the passion. He also successfully mixes several diamond settings in one piece – another trend. Look for baguettes and rounds in one ring that uses bead, channel and pave settings.
Ambar Diamonds Inc., the Quadrillion King, has several invisibly-set diamond styles and several more unique channel-set rings that attracted lots of attention. The Quadrillion (or generic princess cut) is the newest cut on the block, popping up in jewelry that runs the design gamut. The second runner-up is the Trillion (and all its namesakes) in diamonds and colored stones.
The white-on-white look is best done with mixed diamond shapes and settings. The trend is towards squares and rounds together in pave and channel settings. Or a mix of shapes flush set into one piece. Or tapered baguettes channeled around a bead-set round design.
More trends, more colors: Beside the brilliance of white light, it takes a strong color story to captivate the buyer. Many manufacturers did their best with colored stone jewelry that boggles the eye.
At Bosshard & Co., colored center stone rings were hot, with link bracelets centered with pink and green tourmalines running a close second. The star of the show for this California design firm was a Ceylon sapphire ring of a color that will rarely, if ever, be seen again. The price tag – more than $100,000.
Bagley & Hotchkiss Ltd. showed a dramatic line of color-mixing stone rings with enamel and inlay accents that are very newsy. For a dynamic color mix there also are inlaid mosaics by Kabana that major in opal and minor in everything else.
Inlays by Asch/Grossbardt looked fresh, too. So did the colorful bead earring mixes at Ilaro and the rainbow of polished bullet and cabochon agate, jasper and quartz earrings by Patrick Murphy (dubbed the Tongue King by the In Crowd).
Designer-cut colored stones, mostly the masterworks of Munsteiner and Dieter Lorenz, took first place in many more designer lines. The word is really getting around that fancy and fantasy cut stones are HOT!
Some of the best Munsteiner stone jewelry is made by Susan Helmich for Kostbar Int.; Gerald Stopper for Simply Jonathan's; Timothy Sens for Avirom & Associates; and Cornelis Hollander.
The onyx cut by Dieter Lorenz has become a staple for the one-of-a-kind set. These little sculptures transfer easily into fantastic pins and neckpieces and working with these mini-masterpieces brings out the best in designers.
Onyx is coming back strong, in beads and inlays, polished shiny and even newer with a soft matte finish. Look for more black notes to come.
The new Naturalism: As predicted in last month's fashion forecast, animals and floral themes promise to be very strong this year.
Seen in many JA showcases were lions and tigers and bears, oh my. And birds and reptiles and fish. It was a shopper's market, where flora and fauna were concerned; you name it and some manufacturer has made it. Hedgehogs and all.
Some of the best animals are Jeffrey Stevens' animal-head bracelets; Ardian Corp.'s circus parade animal link bracelet; Kabana's dolphin series; Michael Bondanza's dragonflies; Asch/Grossbardt's fish and parrot pins; Mazza/Bartholomew's entire mabe pearl zoo; and Jerry Madison's animal pin collection.
Flowers, petals and leaves follow animals down the nature walk. All gold looks compete with gemstone-studded representations from Mother Nature's garden.
Matte-textured metals continue with strong sell-through, while many design firms which capitalized on the Greco-Roman theme last year are taking the look one step farther. Jeffrey Stevens, SeidenGang, Esti/Frederica and WINCreations all do it, and do it well.
Pearl designs seemed a bit more prominent this market; so did citrines, peridots and colored diamonds.
Pins are the object of choice for most, with rings picking up the slack. Bracelets are sleek and stacked, necklaces are longer and swingy or short chokers with center details.
JA PICKS NEW DESIGN AND NEW DESIGNER
Stephanie Occhipinti of Goldtech Inc. designed the bracelet selected as first-prize winner in Jewelers of America's first "New Design of the Year" award. In all, 53 designers submitted 129 original renderings. Then 26 pieces were selected to be made into completed pieces from which a panel of trade press fashion editors and retail jewelers picked the winners.
First runner-up was a necklace by Martin Gruber of Nova Stylings. Second runner-up was a pair of earrings by Albert Lipten of Albert Lipten Designs et Cie.
Best in category awards for women's jewelry were:
Earrings  –  Albert Lipten. Rings  –  WINCreations, Robert Wander. Bracelets  –  Stephanie Occhipinti, Howard Gaber Designs/Goldtech. Pins  –  Michael Nutter, Michael Nutter Mfg. Inc. Necklaces  –  Martin Gruber, Nova Stylings.
Cited for men's jewelry were Paul Robilotti, Robilotti Fine Jewelry, for cufflinks/studs, and Michael Nutter for three categories (bracelets; tie bar/tie tac; and rings).
Pauyl Klecka of Paul Klecka Inc. won JA's annual "New Designer of the Year" award, which goes to an exhibitor in the New Designer Gallery. Klecka is a previous winner of the Diamond Information Center's "Diamonds Today" and the American Gem Trade Association's "Spectrum Award" competitions.
THE COLOR STORY
Signs and publicity made the JA show's downstairs diamond and colored stone bourse easy to find this year. But many gem exhibitors said traffic nonetheless was down.
Doug Parker of William L. Kuhn, New York, explained that business isn't as brisk this year simply because the general business environment is weaker than it was in 1988. Ray Zajicek of Equatorian Imports, Dallas, Tex., estimated his business fell 25%-30% from last year's July show, where the bourse debuted. Zajicek felt that's typical of all shows, with one exception; he said the Tucson show just keeps improving.
Yet, some dealers did much better this year. James Alger of New Hampshire reported more traffic; his booth always seemed crowded. Alger attributed this to his inventory of unusual and unusually cut gem materials. He sold very little in standard goods or very expensive stones, but otherwise did well with virtually "everything across the board."
Bill Larson of Pala International, Fallbrook, Cal., also reported better traffic. While the first day was slow, he estimated everyone in the colored stone section did good business.
This section currently includes only members of the American Gem Trade Association (AGTA), but their future at the JA Show is somewhat clouded. AGTA president Ken Moghadam said JA made it clear that if the group doesn't participate in the winter show when it moves to Javits in 1992, space won't be guaranteed for the summer show. (Upstairs exhibitors, who sell manufactured goods, have been subject to the same rule for years.) Because JA's winter show will immediately precede AGTA's all-important Tucson Gem Fair, this could put a strain on exhibitors.
A questionnaire given to AGTA members during the JA show asked whether they would continue to participate in JA shows under this condition. Results of the survey will be discussed at AGTA's October board meeting.
"If it comes to a point where the success of our Tucson show would be jeopardized," said Moghadam, "then we will not make that sacrifice. Tucson for us is the show. Everything else is secondary."
What's selling: Here's a quick rundown on some current best sellers in colored stones.
Blue sapphire is doing very well, said Parker. All sizes are selling, including some very fine, important stones.
Parker reported strong sales of emerald, too. His firm carries mostly Zambian emeralds; he said he's been to Israel twice since January and had no trouble securing nice goods. He expressed little concern over the Zambian government's recent announcement that it is banning export of rough emerald and will cut the material domestically.
Zajicek, who specializes in Colombian emerald, said he sells mostly stones in the 1- to 3-ct. and the $300 to $2,000 per carat range. Although he does deal with some Brazilian emerald in smaller sizes, he stays away from stones with numerous surface cracks, which often are treated with Opticon instead of traditional oil. Opticon, a resin-like material that hardens in emerald's fissures, tends to become cloudy after several months; this dramatically changes an emerald's appearance. "Misrepresentation for short-term profit does not lend itself to long-term staying power in this industry," said Zajicek.
Larson reported selling a lot of tourmaline from his Himalaya mine in Pala. May marked the biggest tourmaline find in this mine in 12 years. The 11-foot pocket already has yielded 1.2 million ct. of tourmaline  –  mostly pinks and bi-colors in cabochon, bead and carving grades. Another seven smaller pockets found since then together have produced another half-million carats. The find is important, Larson said, because "it offers reliability to jewelry manufacturers. They can count on there being enough material to fulfill their needs on particular designs." Larson also noticed popularity in earth-tone gems such as topaz, malaia garnet, and peachy bronze tourmaline. He attributed this to greater fashion consciousness of women and their increasing involvement in the jewelry and fashion worlds.
Frances Petsch of Petsch & Co., Dallas, said she's selling more emerald, sapphire and ruby cabs as more designs use this cutting form. She's also been selling a lot of tourmaline  –  especially hot pinks  –  in all sizes from melee on up. Carre (small square cuts) are another best seller in a variety of gem materials, including tourmaline and tanzanite. Petsch suggested combining them with other colored stone carre or square-cut diamonds for a sensational look.
Amethyst specialist Tom Banker of Twin Import & Export Corp., New York, said he's doing particularly well with small marquise, oval, heart and triangular cuts. He reported a new source of amethyst in the Brazilian state of Rondonia is producing small crystals with nice, dark color. He also reported a lot of activity in smaller tsavorite garnet, partly because emerald is so expensive.
Jim Alger has been doing well with new work by German cutters Bernd Munsteiner, Dieter Lorenz and Phillip Hobein. Munsteiner has developed a new cutting style he calls "internal selecting," which involves grooving the stone only on its pavilion surfaces. Lorenz has been carving a lot of the striated Madagascar tourmaline known as Liddicoatite into beautiful shapes and designs. Hobein is cutting transparent gem materials into a style best described by Alger as "abstract multi-layer." Alger also carries the work of American gem cutter and carver Steve Walters, who is doing some exciting things combining carved gem materials with gem mosaics.
JA ELECTS NEW OFFICERS, DIRECTORS
Roger Marks of Rogers Jewelers, Modesto, Cal., was elected president of Jewelers of America during the group's board of directors meeting at the show. He succeeds Robert Green of Lux, Bond & Green in Hartford, Conn. Other officers elected were Irving Getz of Mayor's Jewelers, Coral Gables, Fla., vice president; Lee Michael Berg of Lee Michael's Fine Jewelers, Baton Rouge, La., treasurer, and Helene Fortunoff of Fortunoff, Westbury, N.Y., secretary.
Newly elected to JA's board of directors were Jerry L. Cundiff Jr. of Falkenberg's and William S. Preston III of F.J. Preston & Son. Re-elected to the board were Lee Michael Berg, William R. Chaney of Tiffany and Co., David Kelley of Kelley Jewelers and Roger Marks. Richard Hannon of Warren Hannon Jeweler was elected to fill the unexpired term of Arnold Rubin, who recently died.
RETAILERS `EXCITED AGAIN' BY WATCHES
Retailers in late 1989 are more confident that watches can be profit-makers, as well as traffic-pullers. So said many of the watch exhibitors at JA's summer show. As evidence, they cited their own healthy sales, many new contacts and changes in retailers' attitudes.
"There's greater enthusiasm about watches this year among retailers," said Max Beschloss, vice president of Longines-Wittnauer. "Last year, sales for much of the industry were flat, but in the past couple months, there's been a resurgence [of buying] in better watches."
Others agreed. Peter Pemberton, director of sales at Speidel, noted, "People who were cautions are more receptive this year to hearing about our watches. They're saying, `Let's sit down and talk.'"
There are several reasons, said vendors. Retailers are less worried about a possible recession than in 1988. Choices in the hotly competitive U.S. market keep growing, as new firms and innovative styles in all price points proliferate. There are more affordable Swiss-made lines, still a strong selling point after years of Japanese watch dominance. Consumer demand for sport and multi-function watches continues to grow. And Americans have become devout multiple-watch buyers.
`Excited': Most important, said some vendors, more jewelers realize watches can be profitable as affordable lines designed strictly for them appear. Such lines offer classic styling, sizable margins and profit plans, and clean distribution to avoid price wars and/or discounters.
"Jewelers are getting excited again about watches," said Steven Holtzman, vice president of Gruen Marketing. Previously, he said, they saw watches as a "break-even or non-profit category," used to bring folks into a store or to accommodate jewelry customers. Now, he said, retailers are "starting to look at  akribos xxiv review the way they look at diamonds [because] they see they can have watches and make a profit, too."
Sales were especially strong in upscale watches. Spokesmen for such firms as Raymond Weil, Cyma and Bertolucci all called business outstanding. One reason, suggested Larry Lich, vice president of Raymond Weil, is the "graying of America," a reference to the growing number of older Americans.
"As more people get older, they pay off the house and kids' college [costs], and have more disposable income left. That's great for upscale products," he said.
Technology: Seiko Time unveiled its "IQ" (Intelligent Quartz) watches, which put computerized technology in sleekly designed quartz analog watches. The IQs are spread among Seiko's new sport and fashion collections ($125-$495).
Among Citizen Watch's high-tech offerings was Noblia-Spirit's impressive 200-year perpetual calendar watch ($395), which has eight different hands simultaneously reading hour, minute, second, month, day, date, year and 24-hour time.
The world's first self-powered quartz wristwatches  –  Seiko's AGS watch ($375-$395) and Jean d'Eve's Maple (renamed from Samara due to a trademark conflict; $1,395-$1,595)  –  go into national distribution this fall.
More watchmakers offered "two-timer" designs for travelers, showing both at-home and foreign time. Among these designs were Van Cleef & Arpel's 18k gold Traveler ($7,950) and Hamilton's two-tone World Timer ($495).
Good sports: Sport and multi-function watches are top sellers at all price levels, but upscale stuhrling watch review vendors seemed especially busy debuting new ones.
Cyma's new luxury sports watch ($995-$4,795) is also the Swiss firm's new signature timepiece. The 18k and steel watch  –  unnamed at presstime  –  is distributed by Glenn Corp. and was a year in design. It has a classic dial, date window, one, two, or three rows of 18k gold in the bracelet, and a hidden clasp with 18k forming a continuous pattern through the clasp.
The Pulchra line by Italian designer Remo Bertolucci (distributed by UTAC America) added Maris, a stylish 18k and brushed steel diver's watch ($2,500-$3,250) with automatic movement.
The Sub Line (starting at $1,000), a professional diver's watch water resistant to 1,650 ft., debuted. Sub Line  –  by Lucien Rochat, a Swiss maker of mechanical and automatic watches  –  is distributed by Artime U.S.A.
Also selling well were Jean d'Eve's Pacific ($595 to $1,195) and Revue Thommen's Landmark series, especially its Lhotse model ($695, named for a 1988 expedition to the Himalayas).
Affordable sports: Seiko displayed new Sport-Tech watches ($295-$395), while Citizen devoted an entire wall of display windows to its sophisticated Promaster series for land, air and sea sports ($375-$690 for professionals' watches, $95-$195 for serious amateurs).
Helbros showed its Great Adventure men's line with sporty divers'-type cases and heavy straps ($140-$150). Others with stylish new sports watches included Croton ($350-$390), Gruen ($120-$175) and Pulsar ($115-$175).
For the mass-market, Sharp has new Swatch-like women's Action Sport watches ($34.95). Armitron added dual-tone models to its All Sport series ($25-$75). New Lorus sport watches include Fitness Walking quartz digitals ($34.95), which measure distance, elapsed time and strides taken.
Pilot's watches are today's trendiest sport watches. Among the newest is Timex's Zulu Time (aviator jargon for Greenwich Mean Time, $59.95), whose analog/digital dial has a compass direction ring, a 24-hour chronograph, countdown timer and three time zones.
Chronos: Virtually every watchmaker added or expanded its chronograph line. Omega debuted its Omega Speedmaster Automatic chronogaph series ($795-$9,950). The design is based on Speedmaster Professional, the official watch of the U.S. manned space program, but is a third smaller. It comes in 18k, 18k and steel, or steel only.
Jean Lassale introduced an 18k and stainless Thalassa chrono with porthole design ($2,250). TAG-Heuer added a chrono ($395) to its popular multi-color steel case and plastic strap Formula 1 series and unveiled Super 2000, a new 14k automatic chronograph ($1,195-$1,695). Both Tag-Heuer and Jean d'Eve showed downsized chronos for women. Artime U.S.A. offered U.S. newcomer Sector ($195-$595), a Swiss line of chronos and sport watches.
The popularity of upscale mechanical and automatic (self-winding) watches also is growing. Firms showing such watches at JA included Daniel Mink (which added a wider Wood Watch with mechanical movement), Lucien Rochat, Eterna, Gruen, Rado (whose Florentine series is fully automatic), Van Cleef & Arpels, and Revue Thommen (whose skeleton Thema had strong sales).
Oversized watches – with faces and cases 10% to 20% wider than average models  –  were more evident. That's partly because popular multi-function and chronograph watches need wider faces for subdials). In addition, explained Mark Odenheimer, vice president of E. Gluck Corp., "from a practical point of view, they're easier to read," and wearers – mainly young women – "consider them fun and a great fashion accessory."
Other firms with new or more oversized watches included Raymond Weil, Gruen, and French watchmaker Pierre Lanier, whose watch straps are colorfully stitched like tapestries.
Dialing: Sleek, classic dial and case styling is in full bloom, partly in reaction to the somewhat cluttered look of multi-function watches. Those at JA with simple, striking designs included Breil's Versoix and Botticelli lines; Seiko's new white dial, black strap Night & Day series, and Citizen's stylish Noblia Insignia series.
Typifying basic styling and creative design is Lassale's new Opus III line ($350-$650). Lassale has cut its 150 models by two-thirds and created Opus as its new flagship.
Among the most popular dial treatments are mother-of-pearl – one strong seller was Jules Jurgensen MOP moonphase ($100) – and multifunction watches with multi-colored dials.
Artsy: The most original dials are coming from artists. Bulova, which is pioneering such watches for the wide market (Movado's Art Watches are a limited edition) presented the Artist's Watch ($350, designed by famous living artists) and The Masterpiece Collection (20 great art works, framed with silver frame/bezel, $285). Coming soon are the Leroy Neiman series ($350-$500) and Norman Rockwell clocks ($79-$150).
Artworx ($50), from Roland Marketing, is a new series of watches for young adults from Aubrey of Switzerland, with dials by U.S. illustrators. Artworx plans to debut a new set by a different artist every two months.
Watches with dial designs of Swarovski crystal, including Raymond's Fidelio and Wittnauer's Krystal series, sold well. Delma, a Swiss firm new to the U.S., attracted interest with its 18k and crocodile strap Brazilia watches, whose crystal dial designs represent half-moon, sunrise and high noon.
An overall artsy eye-catcher was the Limoges collection ($50) of Marcel Watch Corp., with handpainted baked enamel cases and lizard straps. The line comes in six colors.
Elegant debuts: Carrera & Carrera's unique new slate-gray steel and gold watches (starting at $1,000) have animals engraved in the cases and strap buckles. Juvenia added the first stainless steel models (starting at $1,600) to its popular 18k Biarritz collection. The 18k and steel men's watch is $3,100; the women's model is $2,300. Both have diamonds on the bezel.
Among Swiss luxury newcomers were Lucien Rochat (whose mechanical and automatic watches start at $1,000) and Tabbah (whose elegant gold and fine gem watches start at $1,200), both from Artime U.S.A.
In other debuts, Bulova unveiled its stainless steel Tuxedo ($595), whose case and sapphire crystal blend into one mirror-finish unit. Another newcomer is Raymond Weil's 18k plated Tosca ($695), making its world debut at JA.
In more affordable fashion watches, Timex had Big, Bold, Beautiful III, 15 new women's watches ($40-$65). The line was been restyled with more refined, tailored looks for the female professional. Armitron added blue topaz, amethyst and ruby to its diamond-and-gem series (about $100 to $300) and new watches with a diamond on the dial and gold-tone bracelet of half-moon links ($50).
In designer watches, Benetton's new Southwest Ethnics ($39.95) has dial designs based on Indian art. Harley-Davidson watches ($30-$125) are the new "biker chic" line from Bulova under license by the motorcycle firm. Gruen premiered Halston ($175-$225) and is going national with Givenchy ($150-$195).
Going Swiss: "Swiss-made" is still a sure watch seller; more vendors offered traffic-pulling Swiss lines just for jewelers.
Gruen Swiss is Gruen Marketing's new series of affordable Swiss-made watches ($125-$275). They have classic styling, five-micron gold plating, leather straps or link bracelets. The anchor is Curvex ($175-$195), the curved case watch introduced by Gruen in 1935, in rose gold, yellow gold or white palladium nickel plated with rhodium.
Nastrix's Gentry subsidiary added the Swiss-made Pierre Cardin Swiss Couture line ($150), designed for jewelry stores. Breil's Griffe ($150-$195) has gold-plated cases and lizard straps in black, navy blue and burgundy.
At the high end, Jean Lassale, the Swiss-made luxury watch owned by Hattori Seiko, has a new 18k strap series ($995-$1,375) with Swiss-made movements. Until now, Jean Lassale used only Japanese movements.
Funnies: Cartoon characters are hot, but Mickey remains one of the hottest. Lorus unveiled Melody Mickey in two musical versions; retail, $49.95-$59.95. Seiko Time debuted Hollywood Mickey ($225-$495), a talking watch with the famous mouse in tuxedo and top hat on the dial. Breil watches showing Mickey in various sports (car driving, tennis, $235-$250) will be sold only in Disney retail stores and parks.
Gerald Genta added Donald Duck and Uncle Scrooge McDuck ($3,650) to its successful 18k Mickey Mouse watch ($32,000).
It wasn't all Disney. Armitron and Sutton Time (of E. Gluck) added more cartoon figures, including Roger Rabbit in its Classic Characters series and oversized Fido Didos.
Returns & debuts: JA added some new watch exhibitors and saw some veterans return.
Seiko Time, one of the world's best-known brands, was back after a two-year absence. Seiko, Pulsar Time and Lorus – all part of Hattori Corp. of America, U.S. marketing arm of Hattori Seiko in Japan – were in Hattori Village, an impressive, two-story colonial American-style facility in which each had its own sales salon.
The importance of Seiko's re-entry, and of the U.S. market in general, prompted Hattori Seiko to send Masahiro Sekimoto to the show. Sekimoto, chief of global marketing for Hattori Seiko brands, was Seiko Time's first president (1970-1975). He, HCA president Shiegho Kurashina, and other Seiko and JA officers marked Seiko's return with an official ribbon-cutting to open Hattori Village on the show's first day. This was the first time HCA's brands exhibited together, and HCA execs were pleased with the results.
Rado was one of the new exhibitors. This well-known upscale Swiss brand has been growing steadily in the U.S. for five years.
Some vendors were new to both the show and the U.S. market. ToCad America sells mid-priced Ricoh watches, from Japan's third largest watchmaker, only to jewelers and fine jewelry departments. Artime U.S.A. distributes upscale Swiss sports watches. Artworx distributes watches by Aubrey of Switzerland.
JA equipment update
Security and computer vendors, though relatively few in numbers, both reported satisfactory traffic at the JA show. Many firms offered some new items.
On the security side, Card and Tag Systems of Benicia, Cal., presented a new inventory classification system called "The Jeweler's Image," which produces computer images using a color video camera and a high resolution color printer. With a standard 35mm lens and a PC set-up, a jeweler can add photographs of jewelry pieces to his inventory records and appraisal reports.
Modular vaults were getting attention at Empire Safe Co. Richard Krasilovsky said that modular vaults offer attractive alternatives for those who have weight, space and other limitations to consider. "But don't confuse vaults with safes," he said. "They're rated differently and have different uses."
At Harwood Protection Industries' booth, president John W. Harwood talked about the "Jewelvault" and "Gemvault" safes, UL-rated TL 30 and TRTL 30×6, respectively. The safes, created by Bernardini, feature keyhole cover locks to prevent fiberoptic probe readings, which can make lock picking easy.
Computer software firms, meanwhile, praised the flurry of "serious" retailers attending the show. Vendors said last year's event was strong for referrals; this year, retailers got down to bits and bytes with the dozen companies exhibiting.
"Last year I sold no systems right off the floor," said Tim Sullivan, director of marketing, Applications Systems Corp., Boston. "On the first day of this show I sold two systems right off the bat." ASC was offering its show special, $1,000 off a $7,000 system and free training.
Jerry Riendeau of D.A.T.A. Inc., Elmhurst, Ill., attributed growing interest to the fact that "so many more retailers have personal computers today." That means more are looking for the latest retail software. Those who recently purchased inventory programs, for instance, now want accessory programs. Retailers could find appraisal systems, manufacturing systems, bar code point-of-sale and on-line computer networks on display at Javits.
Chandru Nambiar, director of sales-systems for Kassoy Automated Solutions, Hicksville, N.Y., saw representatives from several major jewelry retailers on the show's first day. Kassoy sells complete bar-code inventory systems for large retail chains.
Audi Vance, president of Vance Info Systems, San Francisco, let word leak that her firm sells an inventory control and accounting system with user prompts and menus written in Spanish and capable of handling foreign currencies. "I couldn't believe the response," she said. – Bruce Flickinger & Michael Thompson.
New group will fight underkarating of gold
A new coalition has been formed to help stamp out what's been called "the disease of underkarating" in the jewelry industry. Its members are the Jewelers Vigilance Committee, Jewelers of America, the World Gold Council, the Gemological Institute of America and the Manufacturing Jewelers & Silversmiths of America.
The group's initial thrust will be to conduct widespread sampling of gold jewelry merchandise to find if its quality is as stated and to check whether quality-marked gold has an accompanying maker's trademark. A longer-term goal will be to create an assaying facility at GIA's Santa Monica, Cal., headquarters. The ultimate goal is to banish mismarked goods from the business and, in the words of Frank Maier Jr., president of JVC, "restore confidence in the product …the public must know that what they buy as gold is gold."
Maier said at an inaugural press conference – held during the Jewelers of America New York July show  – that the group is confident it can raise the funds needed to pursue its venture, to be known as the Precious Metals Quality Assurance Program. Michael Barlerin, chief executive for the World Gold Council's U.S. operations, indicated that his organization will be willing to give financial and people aid to the venture once the action starts. "We're willing to play catalyst in getting the program going," he said. "The commitment is there." He added, however, that many details have to be worked out before the action can start.
The nature of GIA's testing facility will have to be decided, for one thing. William Boyajian, GIA president, indicated that he might approach the issue much as the Institute approached the irradiation issue – slowly and carefully, gathering information over time. GIA is now setting up a testing lab for irradiation of gemstones, with the blessing of the Nuclear Regulatory Commission. He said that if the other organizations in the group commit to action, GIA will too.
Funds for random testing of gold jewelry, both in the field and at jewelry shows, also will have to be raised. Also, a comprehensive sampling process will have to be developed. Present efforts by JVC's monitoring committee, while dedicated and effective, are limited in scope.
Also on the agenda:
* A major educational effort to spread the word that gold items carrying a quality mark must, under federal law, carry a maker's trademark. As part of this effort, JVC is preparing a "How to obtain a trademark" kit.
* A missionary effort to get the U.S. Customs Office to check imported gold jewelry more carefully to see that it is legal.
* Cooperation with Italian and other foreign manufacturers to encourage compliance with U.S. laws governing gold jewelry.
THE TRENDS
Platinum used alone or with yellow 18k gold.
White gold, sandblasted, set into all yellow gold designs as a new design option.
The White Light of all-diamond looks (with little or no metal showing).
Invisible settings in diamonds as well as sapphires and rubies.
The mix of settings in one ring, along with the mix of stone shapes.
Unique settings that capture the stones in channel "hugs."
Continued use of square and triangular stones, especially diamonds.
Cabochons – particularly citrine and green tourmaline.
More coin jewelry than in the recent past.
Increased use of pink gold.
Short choker-length necklaces and extra-long chains (not much in between).
Pins galore and more rings than earlier seasons.
Animal themes in pins and bracelets.
Matte metal finishes with diamond accents and colored stone centers.
Fabric textures for gold – folded, wrapped, twisted and tied sheets of metal
Lapel pins for men and women.
Onyx inlays, beads and bullets.
Matte onyx, rose quartz and crystal beads.
Designer stones cut by West Germans and the new crop of Americans.
Representational themes like sports equipment, cars and flora and fauna in pins andcharms.
Charm bracelets and bracelets with dangles.
Convertible earrings.
Stack rings and bracelets.
Exotic colored stones and obscure agates and jaspers.
More, and better quality, enameling than ever before.