If you've been following our bikini-body plan since January, you're already seeing firmer muscles, a roomier waistband, and less jiggle. If you haven't started yet, it's not too late! This month we're pulling exercises from our Bikini Workout DVD. Pair these eight sculptors with our high-energy cardio plan and the pounds and inches will keep dropping off. You may even be inspired to take a beach vacation before summer.
How it works
You'll need a set of 5- to 8-pound dumbbells and a resistance band for the strength routine. Warm up with 5 minutes of cardio, then do 2 or 3 sets of each move in order, resting up to 30 seconds in between. Do this routine 2 or 3 days a week. To turn this into an aerobic workout, perform 3 minutes of cardio (at an RPE of 6 or 7) after each move.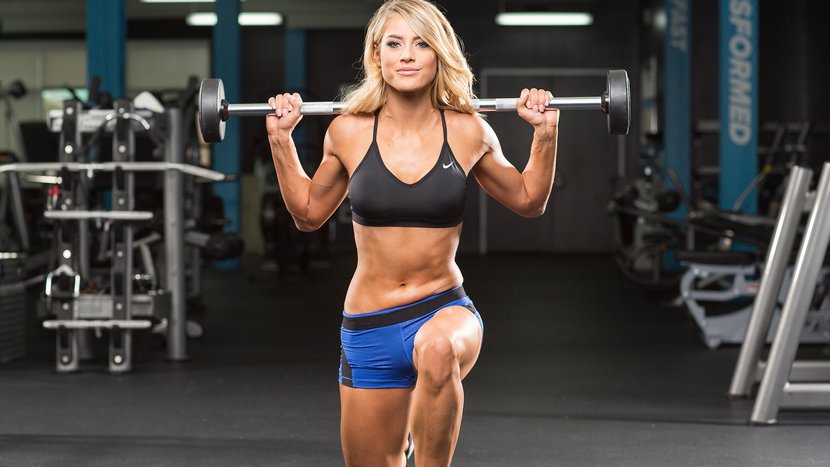 1 Plie Pass-Through
WORKS LEGS, BUTT, AND SHOULDERS
Holding a dumbbell in right hand next to shoulder, stand with feet wide, toes out. Squat as you press weight up, then lower it. Do 8 reps. Pass weight under left thigh to left hand as you squat until thighs are parallel to floor; straighten legs slightly then squat again as you pass it to right hand under right thigh. Do 7 passes, then 8 presses with left hand to complete set.
2 Squat With Reverse Band Fly
WORKS LEGS, BUTT, AND BACK
Stand with feet wider than shoulders and ends of band in hands, arms extended in front of you at shoulder height, palms down. Choke up on band until it's taut. Squat as you bring arms out. Return to start: repeat. Do 10 reps.
3 Punch With Band
WORKS ABS, CHEST, AND ARMS
Stand with feet apart, ends of band in hands. Drape band behind shoulder blades; choke up so it's taut when hands are next to shoulders, palms down. Punch left arm forward as you pivot right on left foot and turn torso and left hip right. Return to start; repeat with right arm to complete rep. Do 15 reps.
4 Criss-Cross Row
WORKS BACK, BICEPS, AND REAR SHOULDERS
Stand on center of band. Holding a dumbbell in each hand, grab right end of band in left hand, left end in right. Bend over and extend arms down, one hand in front of the other with palms facing behind you. Turn wrists so palms face each other as you draw hands toward rib cage. Lower; repeat. Do 12 reps.
5 Triceps Duo
WORKS BACK AND TRICEPS
Stand with left foot on band, right foot behind it. Holding an end of the band and a dumbbell in each hand, extend arms on either side of left leg, palms facing each other, band taut. Raise arms behind you, lower. Do 10 reps; on last rep, keep arms raised, bend elbows, and draw left hand toward chest , then right hand. Do 10 reps per side to complete set.
6 Push-Up With Band
WORKS CHEST, TRICEPS, AND CORE
Hold an end of a band in each hand and wrap it behind upper back. Get in push-up position on knees or toes. Take up slack in band so it's tight. Bend elbows and lower chest toward floor. If band is loose at the bottom of the move, wrap it around your hands again. Press up and repeat. Do 10 reps.
7 Weighted Crunch
WORKS ABS
Holding one dumbbell in both hands in front of your chest, sit with knees bent, feet flat, and lean back until abs engage. Keeping torso still and chest high, press weight straight up, lower it to chest then sit straight up again to complete 1 rep. Do 15 slow reps.
8 V-Sit Side Roll
WORKS ABS
Lie on your left side with arms crossed in front of chest, legs straight and feet stacked. Roll onto your back, place hands on floor behind hips and sit up as you draw your knees toward your chest. Lower legs to floor as you turn and lie on your right side. Repeat back to left side to
BIKINI BODY CARDIO PLAN
How it works
Five or six times a week, do one of these. Choose any activity you like. If you make the weight workout more aerobic, substitute that for a cardio session. Take one day off each week to recover.
ENDURANCE BUILDER
45 minutes–or longer, if you like–at a moderate intensity (you should be breathing harder than normal but still be able to maintain a conversation).
HIGH-ENERGY PYRAMID
0-5:00 Warm up for 5 minutes at an easy intensity (you can talk easily).
5:00-15:00 Increase the pace, resistance and/or incline, and maintain a moderate intensity (you're breathing somewhat hard but are still able to maintain a conversation).
15:00-25:00 Increase to a moderately hard intensity (you have to take a breath every few words).
25:00-35:00 Return to moderate intensity and check your form.
35:00-40:00 Gradually cool down so the last 2 minutes feel very easy.